Name: Craig Allen, Para Table Tennis Player
Age: 23
World Ranking: 52, Class 9
GB Ranking: 2, Class 9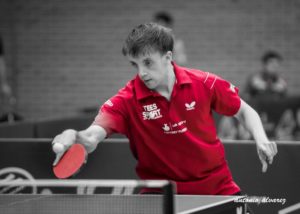 Craig has an undiagnosed syndrome and despite tests since birth the medical profession have been unable to put a name to the condition that results in Craig having various physical limitations. Despite all this Craig has always loved sport and whilst finding contact sports difficult he was soon drawn to those sports requiring excellent hand/eye coordination. Craig began playing table tennis at the age of 9 on his parents dining table and was soon begging them to find him a local club. Craig joined Arrowvale TTC and was soon being coached on a 1-1 basis by Ian Scott. For the next few years Craig played local league etc. but in late 2011 was asked to join the West Midlands Disability Squad. Ian introduced Craig to Eddie Lynn shortly after this and as the saying goes the rest is history…
Craig has been a member of the British Para Table Tennis Development Squad for the past 4 years and was internationally classified in June 2013 and has gone on to win medals in his class for GB. Craig initially joined SGS TT Academy after finishing his A' levels but has since spent the last 3 years at Grantham TT Academy. However, Craig is completely self-funding and this year he has reduced this to part-time. Craig and Eddie Lynn have built a fantastic coach/player relationship and much of Craig's current success can be credited to Eddie's time with Craig on a 1-1 basis.
Craig has always been keen to share the love of his sport with everyone and used table tennis as the volunteer part of his bronze, silver and gold Duke of Edinburgh award. Craig is a UK/CC Level 1 Table Tennis Coach and currently undertaking Level 2. Craig also used his table tennis experience whilst studying for his Sports Coaching Degree.
Craig's ambition is to win a Paralympic medal for Great Britain and no-one could doubt his passion for the sport and his hunger for success. To improve his world ranking Craig has to continue to pay for all his trips overseas, all his equipment and training plus all the various kits he requires e.g. GB kit. Nothing is provided free of charge. If you would like to help Craig to achieve his dream by sponsoring him or making a donation, please contact Eddie Lynn who will be pleased to hear from you.
Achievements 2017 (to date)
March 2017 Gold Medallist Romanian Open Class 9 (Under 23s)
April 2017 British Para Table Tennis (BPTT) National Championship
Silver Medallist Class 9
Bronze Medallist Standing Doubles
June 2017 Silver Medallist Spanish Open Class 9 (Under 23s)
June 2017 Gold Medallist British Para Table Tennis Draycott Open Class 9
Gold Medallist British Para Table Tennis Draycott Band A Standing
September 2017 Beat World Ranked no. 30 (3-1)
Currently shortlisted for Hereford and Worcestershire Disabled Sportsperson of the Year
2017 Worcestershire County Championships Quarter Finalist (Able-bodied)
2017 Bromsgrove and Redditch Table Tennis Association Championships, Doubles Winner (Able-bodied)
Awarded the Meritorious Award – Bromsgrove and Redditch Table Tennis Association – for my commitment to the sport both home and abroad (their highest award).
Other notable achievements:
March 2015 – British Para Table Tennis, Class 9 National Champion
June 2013 – Bronze Medal Spanish Open Team Event (Class 9-10)
2013 West Midlands Senior Disability Champion
2012 Gold x 2, Midlands Disability Team, Sainsbury's School Games
2012 Disability Sports Personality of the Year, Bromsgrove and District Sports Partnership
2012 British Para Table Tennis National Junior Runner-up